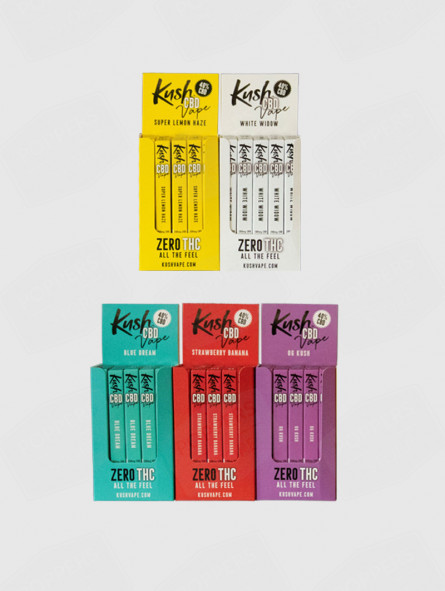  
Mixed 20-Pack of KushVape CBD Vape Pens
KushVape CBD VapePens Mixed Pack x20
Disposable CBD E-cigarette
20 units pack
200 puffs
40% CBD (200mg)
0% THC
Natural terpenes 
Brand: Kushvape
Ready to use
Pack of 20 vape pens including 4 units from the 5 classic flavours:
Super Lemon Haze
Blue Dream
White Widow
Strawberry Banana
OG Kush
Details of the Mixed Kush Vape 20-Pack
The KushVape Vape Pens are 0% THC certified. They're sold here in packs of 20 units with 5 different flavours: 4 Super Lemon Haze vape, 4 Blue Dream vape, 4 White Widow vape, 4 Strawberry Banana vape and 4 OG Kush vape. Each Vape pen contains 40% CBD (ie 200 mg). The brand uses natural terpenes from premium quality hemp. Each Vape Pen is sold with an anti drying tip to preserve the properties of the Vape Pen as much as possible.